Regular price
$199.99
Sale price
$198.99
Unit price
per
Sale
Sold out
PNY NVIDIA NVLink Bridge 2-slot
RTX A6000, A5500, A5000, A4500, A4000
A100 80GB, A30, A40
See table below for complete compatibility information.
NVIDIA® NVLink™ is the world's first high-speed GPU interconnect offering a significantly faster alternative for multi-GPU systems than traditional PCIe-based solutions. Connecting two NVIDIA® graphics cards with NVLink enables scaling of memory and performance to meet the demands of your largest visual computing workloads.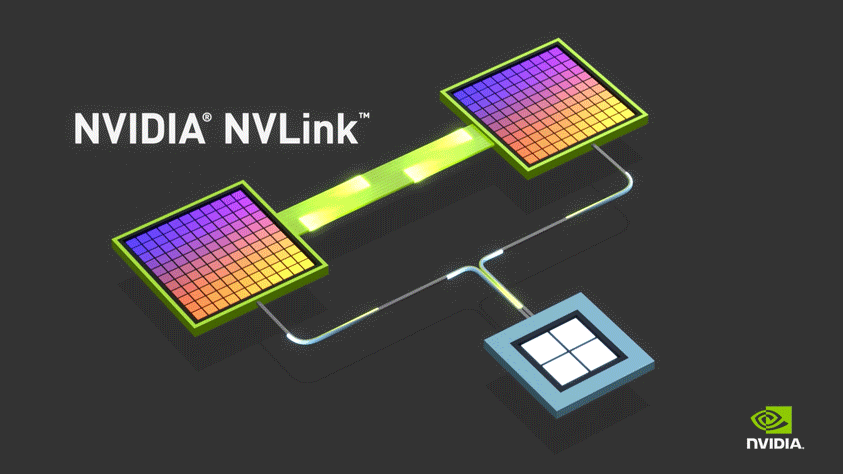 Compatibility
NVIDIA GPU
NVLINK BRIDGE CONFIGURATION
BANDWIDTH
NVIDIA RTX A6000
NVIDIA RTX A5500
NVIDIA RTX A5000
NVIDIA RTX A4500

NVIDIA NVLink Bridge 2-Slot

 

NVIDIA NVLink Bridge 3-Slot

112.5 GB/s

NVIDIA A100 80GB PCIe

NVIDIA NVLink Bridge 2-Slot

 

NVIDIA NVLink Bridge 3-Slot

600 GB/s
Three NVLink Bridges Required
NVIDIA A30

NVIDIA NVLink Bridge 2-Slot

 

NVIDIA NVLink Bridge 3-Slot

200 GB/s
NVIDIA A40

NVIDIA NVLink Bridge 2-Slot

 

NVIDIA NVLink Bridge 3-Slot

112.5 GB/s
NVLink Overview and How It Works
NVIDIA's NVLink is a high-bandwidth, energy-efficient interconnect technology designed to facilitate faster data exchange between the CPU and GPU, as well as between multiple GPUs. 
High-Bandwidth Connection
NVLink offers significantly higher bandwidth than the older PCI Express (PCIe) connections. This allows for faster data transfers between the components that are connected with NVLink.
Multi-GPU Support
NVLink is particularly useful for setups with multiple GPUs (like in high-performance computing or data centers). It allows for direct GPU-to-GPU communication, which can reduce the need to send data back and forth through the system's main memory.
Hardware Bridges
NVLink is used with a physical bridge that connects two GPUs together. This bridge facilitates the high-speed communication between the GPUs.
Unified Memory
In certain high-end systems, NVLink can support unified memory access, where the CPU and GPU can share a single memory address space. This can simplify programming and increase performance for certain tasks.
Scalability
NVLink is designed to be scalable, meaning it can be used in configurations ranging from workstations with just a couple of GPUs to large supercomputers with thousands of GPUs.
Compatibility
Not all NVIDIA GPUs support NVLink. It's essential to ensure that both the GPUs and the motherboard (or system) support NVLink if you plan to use this technology.
PNY and other manufacturers design their NVLink-compatible GPUs to NVIDIA's specifications, ensuring they can take full advantage of the NVLink features when paired with compatible hardware and software.
If you're thinking about utilizing NVLink in your setup, make sure you have the appropriate hardware (GPUs, bridges, motherboard) and that your software applications can benefit from the enhanced GPU-to-GPU communication.
2 SLOT MPN: RTXA6000NVLINK-KIT
GamerTech.Shop is an an Authorized PNY Reseller Partner. Products purchased from GamerTech.Shop are eligible for PNY's Manufacturer Warranty. 

Share
View full details